From the office to the playing field, recognition is a vital part of teambuilding. Let your team know just how much they mean to you by recognizing their achievements, successes, and jobs well done. Studies show that tangible awards like trophies, plaques, medals, and other personalized "winner" gifts are far more effective than either verbal "thank you's" or monetary gifts in expressing gratitude.
They work hard. Show them you notice. Recognize and reward their efforts with customized awards and trophies they'll be proud to display.
.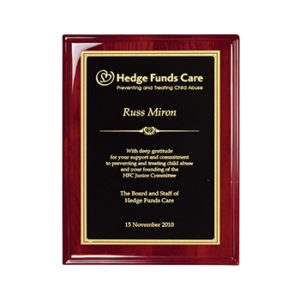 Corporate Plaques
Reward Success
Recognize the people who have contributed to the success of the team.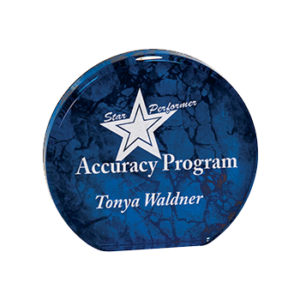 Acrylic & Glass Awards
Acrylic & Glass Awards
Recognize high achievement with these elegant and affordable awards.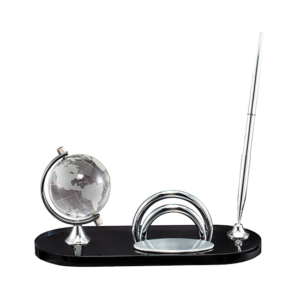 Personalized Gifts
Unique and Personal Gifts
Preserve or make a memory with personalized gifts and awards for every occasion.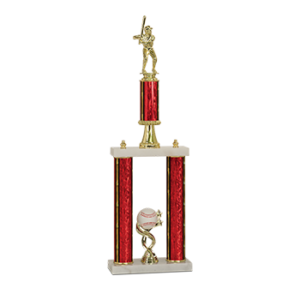 Traditional Trophies
Quality Awards for Every Budget
Participation awards make each player feel like a valued member of the team; recognition adds confidence and spreads good will.
Successful Signs & Awards' Help
Designing the Perfect Award
Do you want to recognize and employee or colleague for their accomplishments and hard work? There are many different types of awards to choose from. If you have little experience in ordering awards we are here to help. We have helpful tips to ensure that your awards arrive on time and will communicate your appreciation of the recipient's accomplishments.
Get started early ~ be sure to allow plenty of time for ordering the perfect award for your event.
Consult an awards professional ~ we can explain the types of awards common for certain industries, sports or types of recognition. Some may be more customizable than others. If you choose something that can be highly customized, ask us how to fit logos and arrange text and the appropriate fonts.
What is the budget? ~ If you know what you or your organization has planned for the recognition program, we can help to find the perfect award to fit any budget.
What type of award is best for your event? ~ we have many types of recognition awards available. Choose from different styles of plaques, trophies made from metal cups, crystal and glass, acrylic, resin and marble to name a few choices. Let our knowledgeable staff help you decide.
How will it be displayed? Another important consideration is where the award will be displayed. Many people don't think of this and decide on the biggest award. Bigger isn't necessarily better. Think about the recipient's office or space and what size may be more suitable. Would a small award get lost in the office? If it will be displayed in the lobby, is it large enough to be noticed?
Carefully proof personalization requests ~ check the names and message for correct spelling, punctuation and capitalization. Give detailed information on your initial request so an accurate quote can be provided.
RECOGNITION IS REWARDING
Everyone likes to be recognized whether it's for being a valued member of a team, doing an outstanding job, achieving academic excellence, or being named volunteer of the year, recognition is rewarding. Acknowledgement and praise are significant elements in everyone's lives. The desire for validation is one of the deepest human needs and we are here to help you develop a recognition program and offer tips to help you achieve an excellent program.
For companies who want to keep their employees engaged while at work, recognition is a proven solution. Take the time to recognize your employees with timely, frequent and meaningful awards and your company will see an increase in productivity. Multiple studies show that organizations that focus on employee engagement through recognition are over 16% more profitable than their run-of-the-mill counterparts. This is attributed to increased productivity by engaged employees, higher customer satisfaction because of happy and committed workers, and reduced turnover rate. Developing a recognition program is well worth the effort.
Establishing Your Sports Recognition Program
It's no secret that everyone likes a little recognition, and for kids, it can be a determining factor when deciding to stay with a sport or not. A recent survey of parents conducted by TNS Worldwide reported that more than 76% of parents support recognizing a player's contribution and participation. Parents also said that feedback from the coach was a key component of their child's sports experience.
Below are tips for starting or enhancing your youth sports recognition program:
• Look to the end of the season first – Determine what type of recognition program you want. Check and see if your sponsoring organization provides trophies or ribbons, and if so, how and when you will receive them. Be sure that you will have them well in advance of the season's end.
• Make Notes – At the start of the season, keep a log via a notebook or smart phone with notes on each player's progress. These notes will become helpful at the end of the season when recognizing each individual player for their effort and improvement throughout the season.
• Catch Them in Action – Ask parents to catch "action" photos of each player. Have them print out the best shots. Distribute the photos with their award.
• Make it an Event – Plan an end of season event. This is a great way for a non-coaching parent to get involved. Whether pizza or pot luck, visit Pinterest.com and search "end of season party" or the name of your sport for great ideas. Be sure to ask (or assign) families to bring an item.
• Be Specific – Have a plan for each child. Don't wing it. Determine how each player contributed to the team. Be specific. Instead of saying "you worked hard," point out something specific to each child such as "your batting average improved" or "your ball handling skills and assists increased." This is the difference between giving a participation award and a recognition award.
• Recognize Regularly – Remember to make recognition a part of every practice and game/match/event. Point out positive traits, new skills learned and good sportsmanship. Make your specific comments, not a blanket statement.
Using the tips above will make your player's experience, and your coaching tenure, something that you will both remember for years to come. We are more than happy to help you select the appropriate items to help recognize your team!
SALES
Your Company Name
Sales Associate of the Year
Presented To
Jane Doe
In Recognition of Her
Achievement in Growing Sales in
(Territory Name)
2015
SERVICE
Community Service Award
Presented To
John Doe
In Grateful Appreciation for your
Outstanding Dedicated Service
To the People in Your Community
(Company)
(Year)
SERVICE/APPRECIATION
Outstanding Service Award
Presented To
John Doe
In Grateful Appreciation of
Your 25 Years of Outstanding
Service and Dedication
(Year – Year)
Outstanding Employee Service Award
Presented To
John Doe
In Appreciation For
Your Dedication and Devotion To
The Principles and Ideals of Our Company
(Company Name)
(Year)
APPRECIATION
Awarded to
John Doe
In Appreciation For
Outstanding Loyalty & Devotion
To This Organization
(Name of Organization)
SPORTS
Coach John Smith
Thank You for Guiding Us
Down the Field
(across the court, around the bases, etc.)
And Allowing Us to
Grow as a Team!
(League Name)
(Year)
ACHIEVEMENT
Achievement Award
Presented To
John Doe
Treasurer
In Recognition of
Exceptional Accomplishments
(Company Name)
Year
TEACHER APPRECIATION
With Our Greatest Appreciation
We Hereby Honor
A Very Special Teacher
Thank you for Being
A truly Inspirational Teacher
You believed in us.
28 Years of Changing Lives
Thank you for guiding us, inspiring us
And making us what we are today!
You have touched our lives in so many ways
As a teacher, mentor and friend.
With Love and Gratitude
Class of 2015
RETIREMENT
Congratulations!
John Doe
We are grateful for your leadership,
Your spirit, and your commitment to this Company
Through both good times and bad
We will miss your friendship, smile and laughter
We wish you success in your future endeavors.
(Company Name)
Year
Retirement Award
Presented To
John Doe
(Year)
This Award is Presented In
Appreciation For 25 Years of
Dedicated Service
(Company Name)
(Year)
QUALITY
Presented To
John Doe
In Recognition of Your Department's
Commitment to Our Highest Quality Standards
(Company Name)
(Year)
SAFETY
Annual Safety Award
In Recognition of Achieving
Five Consecutive Years of
Perfect Safety Record
Job Well Done!
Presented To
John Doe
At Successful Signs and Awards we understand the power of Awards and Trophies in motivating employees.  Recognition is important because it sends a powerful message that the recipient is important.  It says the organization cares about good performance.  Awards play a big part in stimulating good performance by encouraging healthy competition throughout all walks of life.  Competition promotes growth in business, in sports, in school and in lifestyle. Select from our wide range of Quality Awards for Every Budget to recognize and reward the efforts of your team.